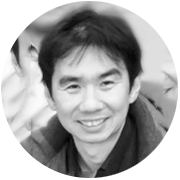 Eiji ARAMAKI, Ph.D.
Professor, NAIST, Japan
荒牧英治(奈良先端科学技術大学院大学・教授)

Eiji ARAMAKI is a professor at NAIST (Nara Institute of Science and Technology), Japan, working on information science. His research interests are in natural language processing (NLP) for the medical field. He is the PI of the Social Computing Laboratory, NAIST (2015-). Also, he is working as one of NTCIR MedNLP task chairs. His publications are shown in
(# of citation > 2100; h-index=21). He is now trying to AI supported art works (music and drawing).

__
Research Interests
Natural Language Processing (NLP), Medical NLP, Social Computing, Media Art

Education Experience
B.S. Kyoto University, 2000.
M.S. Kyoto University, 2002.
Ph.D. University of Tokyo, 2005.
2005-2008 The University of Tokyo Hospital, Assistant professor
2008-2013 The University of Tokyo, Lecturer
2013-2015 Kyoto University, Associate professor
2015-2020 NAIST, Associate professor
2020-now NAIST, professor

Academic Service
2021, NTCIR Real MedNLP task co-chair.
2020, Area Chair, AACL2020.
2020, Area Chair, ACL2020.
2019, Editorial Board, Journal of Medical Artificial Intelligence (impact Factor: 4.8).
2019, Guest Editorial Board, Journal of Information Processing & Management (impact Factor: 3.9)
2018, Area Chair, EMNLP 2018.
2014, Editorial Board, Journal of Annals of Translational Medicine & Epidemiology.
2012-2018, NTCIR MedNLP task co-chair (NTCIR 11, 12, 13 and 14).